Diamond Foundry valued at $1.8bn after $200m fundraising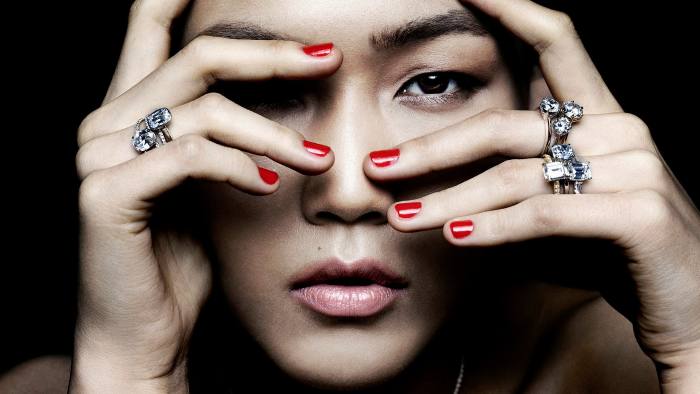 Diamond Foundry rings. The company is also developing diamond wafers for use in the semiconductor industry © Woman wearing Diamond Foundry rings
Diamond Foundry has notched up a $1.8bn valuation after a $200m investment by Fidelity that the lab-grown diamond start-up will use to boost its output to compete with gemstone miners such as De Beers.
The Silicon Valley company, which counts Hollywood star Leonardo DiCaprio among its backers, is challenging the traditional diamond industry by producing chemically identical stones.
The funding will help Diamond Foundry in its aim to quintuple production at its Washington state factory to as much as 5m carats a year by the end of 2022 — equivalent to almost a quarter of De Beer's 2020 production.
"This is the first time that this quality of diamond is produced at mining scale," Martin Roscheisen, chief executive, told the Financial Times. He said the company was also looking at opening a second factory, possibly overseas.
The company, which is targeting the high-end jewellery market, sells its diamonds direct to consumers via its Vrai brand as well as through retail partners. It is also developing diamond wafers for use in the semiconductor industry.
Diamond Foundry has doubled production in each of the past four years. Global production of mined diamonds, however, has been falling since its peak of 152m carats in 2017, according to Bain. Last year it slid 20 per cent to 111m carats amid disruption caused by the pandemic.
Martin Roscheisen, chief executive of Diamond Foundry, said: 'All the largest technology companies in the world are looking at doing diamond wafers' © Diamond Foundry
With no new diamond mines coming into production the market is "now at that inflection point", Roscheisen said.
Diamond Foundry says it is selling lab-grown diamonds at higher prices than some natural stones, at an average of $282 per rough carat. It says it made a profit last year.
Lab-grown diamonds generally sell at a significant discount to natural stones, according to Paul Zimnisky, a diamond analyst who tracks the market. A half-carat lab-grown stone currently sells for about $615, compared with $1,395 for a mined diamond, according to his data.
The company also plans to spend some of the $200m on perfecting the production of 200mm single-crystal diamond wafers for use in semiconductors.
The use of diamonds instead of silicon in semiconductors can help increase their performance because they are good conductors of heat. Data centres will probably be the first companies to use diamond-wafer chips, but in future they could be used in electric vehicles as well as 5G technology, Roscheisen said.
"All the largest technology companies in the world are looking at doing diamond wafers," he said. "It's quite difficult to have full diamond for chips . . . we haven't completely solved it yet."
Diamond Foundry has raised a total of $315m since its launch in 2012 and has no debt. Other investors include Tony Fadell, former chief executive of smart home pioneer Nest, and Mark Pincus, the founder of video game group Zynga. DiCaprio is an investor and adviser to the company.
转载自:https://www.ft.com/content/34254394-a1dd-42a0-8d95-e4dd39254eac